As expected, quite a few people commented on my last entry, telling me I should add Firefox to the list. Here's one of the reasons I'm not a full convert yet (screenshot taken when I just tried to start Firefox on my desktop, which does have Firefox installed)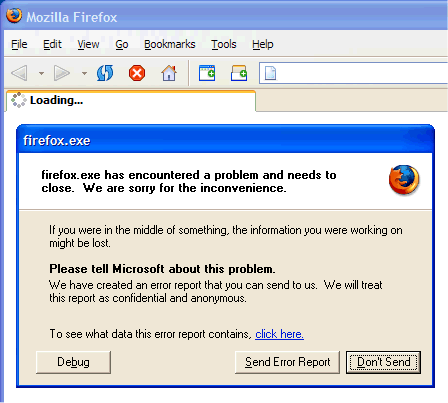 I love Firefox's tabbed browsing and better CSS support, which is why I keep trying new releases. Quite frankly though, it's just not as robust yet as IE and there are still quite a few sites out there that do not work well with Firefox. Also, I really like IESpell and am not aware of a similar plugin for Firefox.
And to those that suggest MyIE2 or AvantBrowser to replace IE6: no thank you. I've tried both and wasn't convinced, and both screwed up my default browser settings to where I had to manually hack the registry to get IE to become my default browser again after I uninstalled them.
So for now, I'm sticking with IE. If I can get past this Firefox crash I may play with it some more, and I'll be sure to get Firefox 1.0 when it comes out, but for now, despite all it's faults, IE just works best for me.